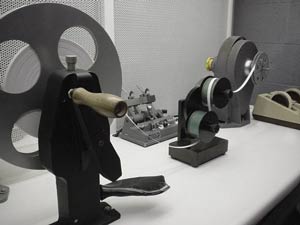 Your film is systematically inspected and cleaned thoroughly before being transferred (service provided at no extra cost).
Doing so not only prevents your film from being damaged but also removes dust and hair that have been gathering on the film.
The products we use are solely designed to clean cine film. While being gentle on the film emulsion, they also lubricate and protect it, preventing any oxydation from building up, and allowing for a smoother transport through our telecine equipment.

During this process we also repair your film whenever necessary. Broken splices and film perforations, torn film, poor quality/old splices are all mended so that your film doesn't get scratched by glue and tape debris. Film leader is also added at the beginning of each reel.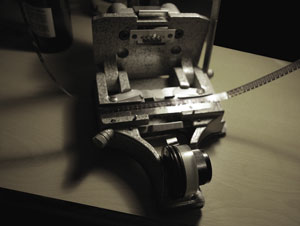 We spare no expense and use heavy duty Catozzo splicers for this task so your splices may last for a long time. The inventor of this device was Leo Catozzo, editor of Fellini's superb Dolce Vita movie. Catozzo splicers are so respected in the film industry that they even received a "Technical Achievement Award".
It thus makes perfect sense to use the best equipment available to splice your Super 8 Dolce Vita together...

Please note that if most of your film has been seriously damaged (such as water damage) or is extremely dirty, it may be worth your while getting it cleaned ultrasonically as traditional methods may not be sufficient to restore it. Contact us for more information on this subject.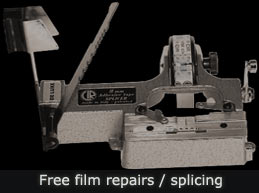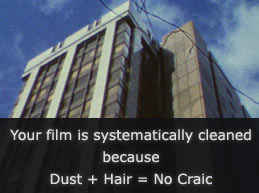 On the hair subject, it may also sometimes happen that some hair got in the camera when the cine film was actually shot. In this case, not much can be done as the hair would have been printed directly onto your film. However, whenever this happens, we always double check that the hair is not on the film emulsion. In the unlikely event of a hair escaping our thorough cleaning, it would be spotted and the film would be transferred again.