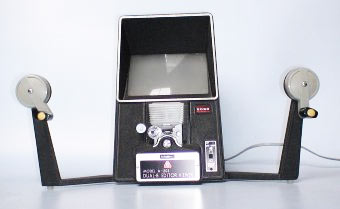 Do you have a handful of reels and no idea what is on them? Does your projector chew films?
We can help...
We know how frustrating it can be to incur unnecessary expenses, having to pay for uncle Tom's poorly shot footage when all you want is to see is memories of you on the beach, running around with a spade and a bucket.
For those of you who need to review a large amount of reels before getting them digitized, we have the perfect solution: Borrow a film viewer free of charge for 7 days.
The film viewers we use can play any 8mm format (super8, normal8, single8) and are really gentle on the film (as opposed to projectors, which can sometimes damage your film) because the film is wound manually and the bulb is only 10W. In other words, it is very easy to use and you won't chew or burn your films.
Should you like to avail of this offer, please note that we require a €150 deposit (your cheque will not be cashed and will only be retained as a deposit).
In case you are happy with your footage, you can send us the viewer back with your films. Should you decide not to go ahead with our super8 telecine service, a €15 / day rental would apply.
If you only have a few reels and would like to check them in our Galway office, this is also possible. Just make an appointment with us and we'll have a cup of tea by the river if the weather allows it.
Alternatively, if you don't have the time to go through your films or they are already labelled, we can transfer all your reels (film viewer loan only being an optional service) and then send you a pre-edit DVD. That way, you can let us know on what to keep, move, discard etc (see our free video editing section) in the final DVD edit.
The choice is yours. Call us today on +353 (0) 91-539607 for more info on our services.