Kodak Ektachrome 100D
PRICE : check webshop
VERY LIMITED SUPPLIES !!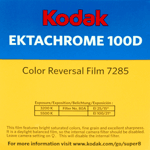 Colour – Silent 50ft
Daylight Balanced: 100 ASA
Can be used in tungsten (artificial)light with an 80a filter (rated at 25ASA)
The Iconic Stock by Kodak. Now in limited supplies. The best colour reversal (non negative film) to this day
Look at the super8 content in the clip below to see it for yourself.

This colour S8 filmstock is balanced for DAYLIGHT.
It produces beautiful results and achieves a fantastic colour saturation, which is reminescent of the late Kodachrome 40.
Please note: Price does not include processing.
It can be used directly in the majority of cameras without any manual changes in the aperture.
Super8 Ireland Home - Super8 Camera Shop Concept - 8mm Film Equipment & Supplies shop
Cine Transfer to DVD Services - Super8 site info / Guide- Contact Super8 Ireland